The 100-year-old hero said that the day was "absolutely magnificent."
The man fondly known as "Captain Tom" has just been awarded a well-deserved knighthood by Queen Elizabeth II.
Capt. Sir Tom made headlines when the novel coronavirus inspired him to start a remarkable fundraising campaign in April. He was 99, and he declared that he would continually walk 82ft laps around his garden in the days leading up to his 100th birthday. He wanted to raise money for the UK's National Health Service charities—his initial goal was £1,000.
He met that goal with flying colors. In fact, he surpassed it by an incredible amount. The war veteran ended up completing upwards of 100 garden laps, and the grand total he raised was nearly £33 million.
The Queen herself remarked on his astounding accomplishment as she knighted him today. They chatted for around five minutes:
Thank you so much, an amazing amount of money you raised.

Queen Elizabeth II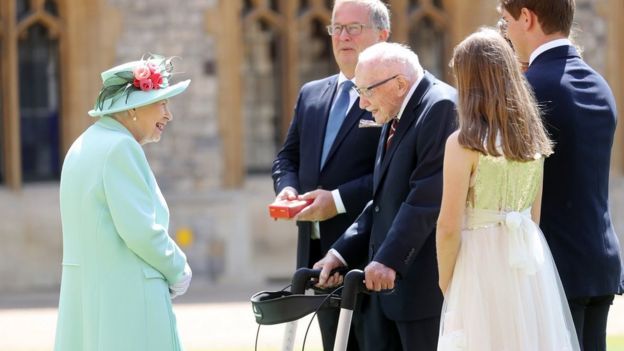 She dubbed Capt. Sir Tom as a Knight Bachelor in the first-ever socially distanced knighting ceremony. Windsor Castle's quadrangle hosted the event.
Due to the novel coronavirus, investitures that were planned for June and July at Edinburgh's Place of Holyroodhouse and London's Buckingham Palace have been deferred.
But Capt. Sir Tom Moore got his new rank in what was the first official event the Queen had attended since the coronavirus led to lockdowns.
Also in attendance were Capt. Sir Tom's family members. His daughter and son-in-law, Hannah Ingram-Moore and Colin Ingram, and his grandchildren, Benjie and Georgia, all joined in celebration of him.
The philanthropic 100-year-old said that he was "absolutely overawed" at the experience:
This is such a high award and to get it from Her Majesty as well – what more can anyone wish for? This has been an absolutely magnificent day for me.

Captain Sir Tom Moore
On his birthday on April 30th, Capt. Sir Tom was bestowed "the honorary title of colonel." His daughter, Ingram-Moore, said that this new knighthood was "truly the icing on the cake."
The supporters who donated when Capt. Sir Tom was walking garden laps—upwards of a million and a half of them—will be pleased to know just how much everyone is appreciating the new Knight Bachelor.
Article source: BBC
Featured image source: Getty Images