The sanctuary gave a pig a new lease on life despite coronavirus challenges.
In Caswell County in North Carolina, a pig from Montana has found a new home. The sanctuary that rescued her, Ziggy's Refuge Farm Sanctuary, named her "Hannah Montana" after her point of origin. She was just a few days old, then.
Now, she is around six months old and under the care of sanctuary owners Kristin Hartness and Jay Yontz. As a disabled animal, she especially needs their help.
Hannah was born this way: her back legs were "extremely deformed," so even walking was incredibly difficult. Veterinarians told the person who owned Hannah back in Montana that she would need to be euthanized.
But Hartness and Yontz, determined to help the young pig, made her prosthetics to help her walk—and thrive.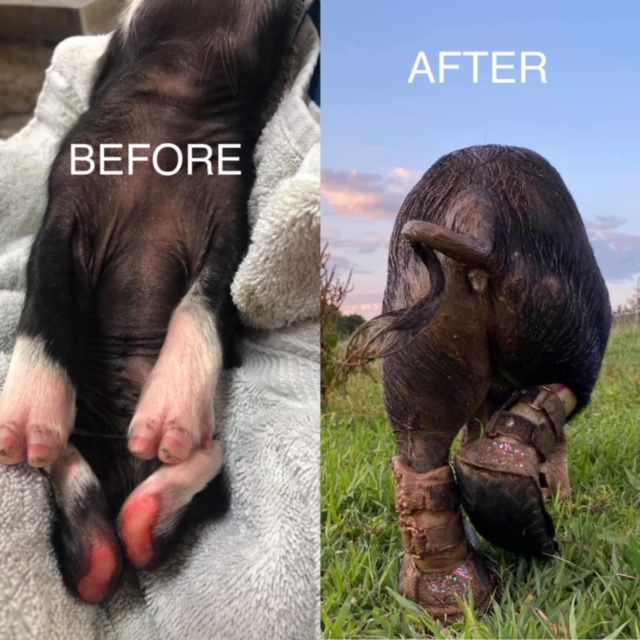 Before the outbreak of the novel coronavirus, Hartness and Yontz would go see a friend in D.C. who made prosthetics professionally. Now, they have had to add prosthetic-making to their list of tasks as they run the sanctuary. It is a challenge, but they feel fortunate to have a mentor:
It's very tricky, it's detailed work, thank god I have Derrick to kind of walk me through it cause he's unbelievable. Yeah, we've been able to do well.

Kristin Hartness
Hannah is already 100 pounds. Because she is growing so fast, and because she is full of energy, Hartness and Yontz have to produce more prosthetics for her every few weeks:
Unlike most special needs animals, they're usually more relaxed, but Hannah is wild, she's absolutely crazy, she's high energy, and she's everywhere all the time, so she really wears through everything fast.

Kristin Hartness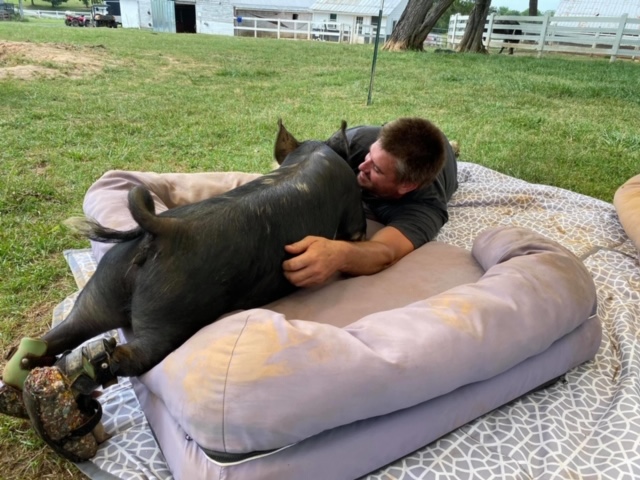 The sanctuary currently hosts 30 pigs along with 60 other kinds of animals. Hannah is doing well at the sanctuary along with her new peers, many of whom also have disabilities.
Ziggy's Refuge Farm Sanctuary accepts donations on their website to help the animals thrive.
Article source: Spectrum News 1
Featured image source: Spectrum News 1